C O N V E N T I O N C E N T R E S I N I N D I A

VYTHIRI CONVENTION CENTRE ( VYTHIRI HALL ), VYTHIRI, KERALA


VYTHIRI CONVENTION CENTRE, VYTHIRI, KERALA, INDIA
Hi Tech Convention Centre with Largest Led Wall only of its kind in India with a
Capacity of 1500 Push Back Seat and a dining area for 2000 people.
Vythiri Convention Centre is one of the Largest Convention Centre in Kerala, India.
NH-212, Near Vythiri Town, Vythiri P.O, Wayanad – 673 576, Kerala, India,
Phone: +91 4936 256716/717/718,719 Fax: +91 4936 256 720,9388256723, 9388803030
reservations@vythirivillage.com, sales@vythirivillage.com

HYDERABAD INTERNATIONAL CONVENTION CENTRE, HYDERABAD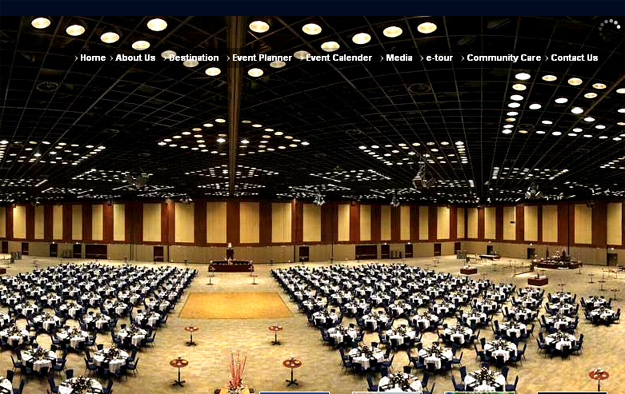 HYDERABAD INTERNATIONAL CONVENTION CENTRE, HYDERABAD
Hyderabad International Convention Centre is India's first purpose - built and state -of -the- art convention facility
managed by Accor, the world's leading hospitality and tourism management group.
Novotel & HICC Complex, (Near Hitec City), P.O Bag 1101, Cyberabad Post Office, Hyderabad - 500 081
Phone : +91 99664 03281, Website : http://www.hicc.com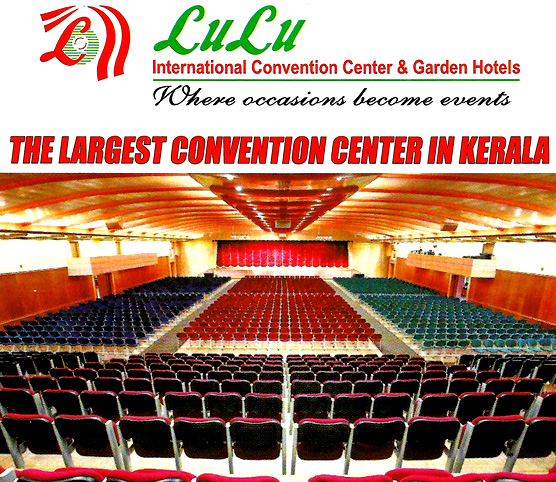 The Lulu International Convention Centre,Thrissur,Kerala
Work on a 4,000-seat convention centre by the Rs 3,200-crore EMKE group is nearing completion at Thrissur. An exclusive helipad,
built as per international aviation standards, is expected to provide a new dimension to the way conventions and events are held in Kerala.
The convention centre is spread across an area of 18 acres with a built-up area of 1,60,000 sq feet and has been divided into both
indoor hall and open-air auditorium, with dining facility for 2,000 guests at a time. In addition, there are three mini-conference halls
with a total capacity for 750 guests and a 50-room hotel with restaurants already completed.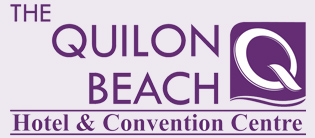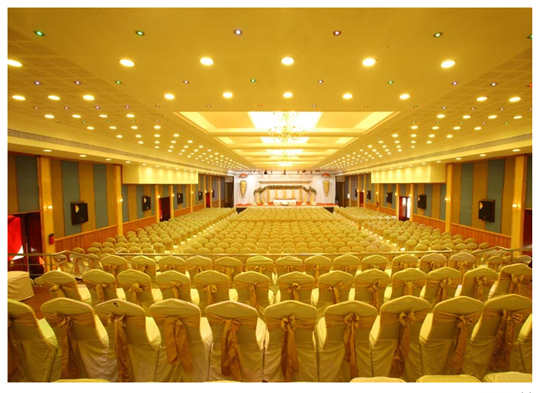 THE QUILON HOTEL & CONVENTION CENTRE, KOLLAM, KERALA
The Convention Centre is located on side of 'The Quilon Beach Hotel' with facilities at various levels. The facilities include
a Mini Conference Hall at the ground floor with a seating capacity of 250 persons, a large conference hall in the first floor with
1250 persons seating capacity and a mini presentation room at the top floor. It is the 3rd Largest Convention centre in Kerala
and one of its kinds in India

Copyright © 2000 - 2010 finderindia.com. All rights reserved.
Created, Hosted and Maintained by : Softnet Technologies, Chidambaram Chambers, Doraiswamy Iyer Lane, M.G.Road, Cochin - 682035, Kerala, India
Phone : +91 - 484 - 2370376, 9995245987, 9847837506, E -mail : info@finderindia.com , info@keralafind.com
info@keralaplot.com, info@superspecialityhospitals.com